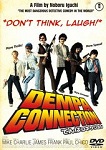 The DVD of the film Dempa Connection (でんぱコネクション) starring Dempagumi.inc will be released on October 19.
The story is based on Dempagumi.inc's new song Sabotage arranged by Hyadain. This is a cover from Beastie Boys.
The film was directed by Iguchi Noboru. It lasts 37 minutes.
The DVD includes visual and audio commentaries.