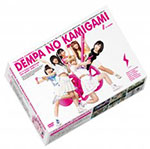 Dempagumi.inc's TV show Dempa no Kamigami (でんぱの神神) will be released on DVD.
Dempa no Kamigami Vol.1 will be on sale on January 15, and Vol.2 on February 5.
In this variety show, the members of Dempagumi.inc participate in various activities and challenges such as cooking, traveling, charades, physical fitness test, going into a haunted house…
The DVD box sets include 6 discs. Each disc is also available separately. It includes cut scenes.
Dempa no Kamigami is broadcast on TV Asahi (テレビ朝日).