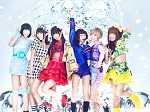 Dempagumi.inc will participate in Japan Expo 2013. They will hold showcases in the JE Live House and signing sessions.
Dempagumi.inc are the first musical guests who have officially announced their presence at the festival this year.
Japan Expo is the biggest convention on Japanese culture in Europe. The festival will be held on July 4-7 at Villepinte near Paris, France.
More details on the event will be announced later.
Schedule
Date : 04/07/2013 – 07/07/2013
Venue : Villepinte, France