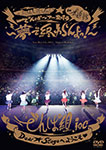 Dempagumi.inc Live DVD World Wide Dempa Tour 2014 in Nippon Budokan – Yume de Owaranyo! – (ワールドワイド☆でんぱツアー2014 in 日本武道館 ~夢で終わらんよっ!~) will be released on July 30.
Dempagumi.inc's concert was held on May 6, 2014 at Nippon Budokan in Tokyo.
Check out the trailer.
This event was the 1st live performance of the idol group at this famous venue. The members performed 26 songs including Denden Passion (でんでんぱっしょん), W.W.D, Sakura Apparition (サクラあっぱれーしょん), Dear Stage e Yokoso (Dear☆Stageへようこそ), Chururi Chururira (ちゅるりちゅるりら).
The limited edition comes with a 120-page photo booklet and a deluxe packaging.
Furthermore, Dempagumi.inc's new single Chururi Chururira (ちゅるりちゅるりら) will also be on sale on July 30.
Setlist
Dear Stage e Yokoso (Dear☆Stageへようこそ)
1st Album Medley (1st Albumメドレー)
W.W.D
Demparade Japan (でんぱれーどJapan)
Vandalism
Fancy Hope U Fu Fuファンシーほっぺ ウ・フ・フ
Nantettatte Shangri-La (なんてったってシャングリラ)
Nazokara (ナゾカラ)
Not Bocchi… Natsu (ノットボッチ…夏)
Tokimeki Succaraka Texas (トキメキ☆すちゃらかテキサス)
Anone… Jitsuha Watashi, Yumemi Nemu Nanda… (あのね…実はわたし、夢眠ねむなんだ…)
New Romantic (ニューロマンティック)
Promise of the World ~Ware Koso Sekai no Kyuuseishu~ (~我コソ世界ノ救世主~)
P and A
Sorry, Lonely (ソーリー、ロンリー。)
Idol
W.W.D II
Kuchizue Kibonnu (くちづけキボンヌ)
Kira Kira Tune (キラキラチューン)
Tsuyoi Kimochi Tsuyoi Ai (強い気持ち・強い愛)
Future Diver
Denden Passion (でんでんぱっしょん)
Chururi Chururira (ちゅるりちゅるりら)
Orange Rium
Itsuka, Harukakanata (イツカ、ハルカカナタ)
Sakura Apparition (サクラあっぱれーしょん)
Trailer (Video)