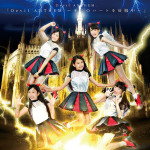 Devil Anthem's debut single Devil Anthem ~Kimi no Heart wo Seifukuchuu~ (~キミのハートを征服中~) will be released on August 4.
The concept of the idol group is that the girls are 2-sided characters : angel and evil.
The average age of the members of Devil Anthem is 13.2 years old.
They are also models and actresses.
The lyrics of all the songs were written by Imaki Sasa who has already worked with many idol groups such as Shiritsu Ebisu Chuugaku…
She has also composed the music in collaboration with Apazzi, Filter System and Makotsu.
It is the first single of the idol group under Tower Records' label Youthsource Records.
Moreover, Devil Anthem are going to participate in a series of release events from July 21 to August 9 in Kawasaki, Nagoya, Tokyo…
Their 1st one-man live will be held on September 27 at Shinjuku Ruido K4.
Tracklist
Devil Anthem ~Kimi no Heart wo Seifukuchuu~ (Devil Anthem ~キミのハートを征服中~)
Anata ni Anthem (あなたにAnthem)
Be Ambitious!
Devil Anthem ~Kimi no Heart wo Seifukuchuu~ (Instrumental)
Anata ni Anthem (Instrumental)
Be Ambitious! (Instrumental)
Music Video (PV)