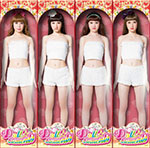 Doll Elements' new single Kimi no Heart ni Tokihanatsu! (君のハートに解き放つ!) will be released on July 3.
It is their major label debut single under Dreamusic.
The CD contains 2 songs and their instrumental versions.
5 editions are available with different jackets : 1 for all the members of the group, and 4 others for each one of them (Tonosaki Rika, Kojima Runa, Gonda Natsumi, and Ayamori Aoi).
Doll☆Elements have also announced that the group is going to hold auditions to recruit new members.
Tracklist
Kimi no Heart ni Tokihanatsu! (君のハートに解き放つ!)
Kira Kira☆Shiny (キラキラ☆シャイニー)
Kimi no Heart ni Tokihanatsu! (君のハートに解き放つ!) (Instrumental)
Kira Kira☆Shiny (キラキラ☆シャイニー) (Instrumental)
Music Video (PV)