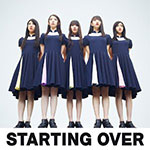 Dorothy Little Happy's new album Starting Over will be released on February 26.
The album contains 12 tracks including 8 new songs and Dorothy Little Happy's latest singles Colorful Life and Asian Stone.
Starting Over is the 2nd major label album from the idol group.
The Type A version includes a bonus DVD featuring footage from Dorothy Little Happy Live 2013 in Winter at Kawasaki Club Citta. The concert took place on December 30, 2013.
The Type B version comes with a 48-page photobook for its first press edition.
In addition, it includes a photo randomly selected from 12 kinds.
Furthermore, Dorothy Little Happy Live Tour 2014 ~Starting Over~ will be held from March 16 to April 27.
Tracklist
CD

Cold Blue
The Sky
Colorful Life
Koi wa Hashiridashita (恋は走りだした)
Asian Stone
Clap! Clap! Clap!
Story (ストーリー)
Dokoka Tsureteitte (どこか連れていって)
Iwanakute Yokatta (言わなくてよかった)
Aoi Sora (青い空)
Starting Over
Ashita wa Hareru yo (明日は晴れるよ)
DVD (Type A)

Dorothy Little Happy Live 2013 in Winter at Kawasaki Club Citta Digest
48-page Photobook (Type B)
Music Video (PV)