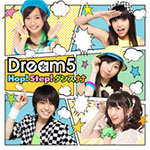 Dream5's 10th single Hop! Step! Dance (Hop! Step! ダンス↑↑) will be released on May 15.
The CD contains 2 songs and their instrumental versions.
The limited edition comes with a bonus DVD featuring music video, choreography videos, and making-of footage.
Both tracks are the tie-up songs for Itoyokado "Dancin' Good Day" and "Dirty Wolf" TV commercial messages.
Tracklist
CD

Hop! Step! Dance ↑↑ (Hop! Step! ダンス↑↑)
Look at Me!
Hop! Step! Dance ↑↑ (Hop! Step! ダンス↑↑) (Instrumental)
Look at Me! (Instrumental)
DVD (Limited Edition)

Hop! Step! Dance ↑↑ (Hop! Step! ダンス↑↑)
Hop! Step! Dance ↑↑ (Hop! Step! ダンス↑↑) (Choreography Video)
Look at Me! (Choreography Video)
Hop! Step! Dance ↑↑ (Hop! Step! ダンス↑↑)