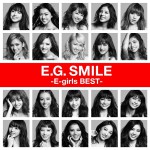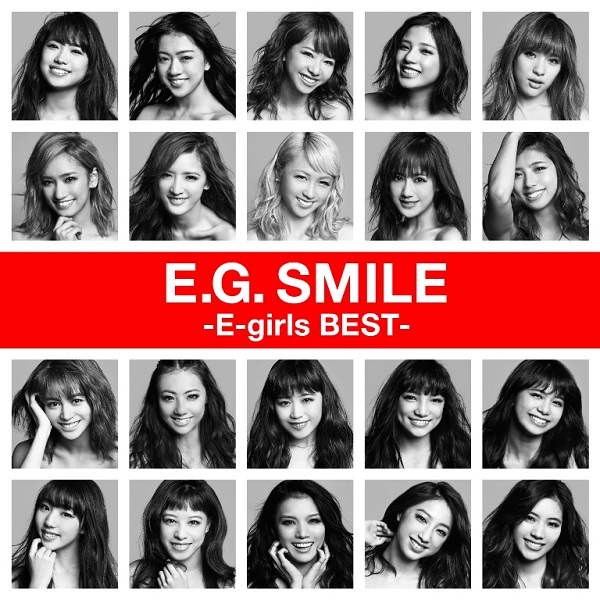 The new best-of album of E-Girls E.G. SMILE -E-Girls BEST- will be released on February 10th.
This is the first greatest hits album of E-girls and it includes all the singles of the dance and vocal unit released since its debut.
The MV for Dance with Me Now!! and the tracklists were unveiled.
Several versions are available.
Depending on the edition, the compilation album contains a CD extra including remixed songs like some of them by popular DJs such as Afrojack, Nakata Yasutaka (from Capsule), Fedde Le Grand and Far East Movement.
DVDs and Blu-rays are also available for limited editions. They include and music videos and videos of the last tour of E-Girls with a little documentary.
Tracklist
CD

Disc 1

Celebration!
One Two Three
Follow Me
THE NEVER ENDING STORY ~Kimi ni Himitsu wo Oshieyou~ (~君に秘密を教えよう~)
CANDY SMILE
Gomennasai no Kissing You (ごめんなさいのKissing You)
Kurukuru (クルクル)
Diamond Only
E.G. Anthem -WE ARE VENUS-
Odoru Ponpokorin (おどるポンポコリン)
Highschool♡love
Mr. Snowman
Anniversary!!
Dance Dance Dance
Merry×Merry Xmas★
DANCE WITH ME NOW!
Shukko sa! ~Sail Out For Someone~

Disc 2 : Remix BEST

Highschool♡love (Afrojack Remix)
Dance Dance Dance (Fedde Le Grand Remix)
Mr. Snowman (Kaskade Remix)
DANCE WITH ME NOW! (Apster Remix)
RYDEEN ~Dance All Night~ (Oliver Rosa Remix)
RYDEEN ~Dance All Night~ (BROKEN HAZE Remix)
Diamond Only (SICK INDIVIDUALS Remix)
Gomennasai no Kissing You (~Computerluv~ Far East Movement Remix)
Follow Me (NERVO Remix)
Follow Me (Nataka Yasutaka (CAPSULE) Remix)
One Two Three (D-Wayne Remix)
Celebration! (Ravitez Remix)
3Blu-ray/3DVD

Disc 1: Music Video BEST

Celebration!
One Two Three
Follow Me
THE NEVER ENDING STORY ~Kimi ni Himitsu wo Oshieyou~ (~君に秘密を教えよう~)
JUST IN LOVE
CANDY SMILE
Gomennasai no Kissing You (ごめんなさいのKissing You)
Kurukuru (クルクル)
Diamond Only
RYDEEN ~Dance All Night~
E.G. Anthem -WE ARE VENUS-
Odoru Ponpokorin (おどるポンポコリン)
Highschool♡love
Mr. Snowman
Move It! -Dream & E-girls TIME- / Dream & E-girls
Anniversary!!
Dance Dance Dance
Merry×Merry Xmas★
DANCE WITH ME NOW!

Disc 2: E-girls LIVE TOUR 2015 "COLORFUL WORLD" vol.1

TBA

Disc 3: E-girls LIVE TOUR 2015 "COLORFUL WORLD" vol.2 & Documentary

TBA
Music Video (PV)