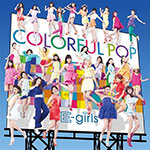 E-Girls' new album Colorful Pop will be released on March 19.
This is the 2nd album from E-Girls. The CD contains 14 songs including their latest singles Gomennasai no Kissing You (ごめんなさいのKissing You), Kuru Kuru (クルクル), and Diamond Only.
The MV for Rydeen ~Dance All Night~ has been released. It is a cover of Yellow Magic Orchestra (YMO)'s song.
ASAP will be the theme song for the movie Jyoshizu (女子ーズ).
The limited edition includes a bonus DVD with 5 music videos.
Moreover, E-Girls' 8th single Diamond Only is on sale since February 26.
Tracklist
CD

Rydeen ~Dance All Night~
Gomennasai no Kissing You (ごめんなさいのKissing You)
Diamond Only
ASAP
Fancy Baby
Sayonara (サヨナラ)
Mirai e (未来へ)
Chewing Gum
Kuru Kuru (クルクル)
I Heard A Rumour ~ウワサ Wassap!~
Koi no Boogie Woogie Train (恋のブギ・ウギ・トレイン)
Winter Love ~Ai no Okurimono~ (Winter Love ~愛の贈り物~)
Yakusoku no Basho (約束の場所)
Follow Me -Colorful Rock-
DVD (Limited Edition)

Gomennasai no Kissing You (ごめんなさいのKissing You)
Kuru Kuru (クルクル)
Diamond Only
Rydeen ~Dance All Night~
Gomennasai no Kissing You ~Film "Shazai no Ousama" Ending Movie Special Edition~ (ごめんなさいのKissing You ~映画「謝罪の王様」エンディングムービー・スペシャルエディション~)
Music Video (PV)