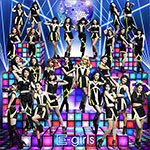 E-Girls' new single E.G. Anthem -We Are Venus- will be released on July 9.
This anthem is used on E-Girls' 1st live tour Colorful Land which is going to be held in July and August 2014. It is a disco funk song.
The MV has been released.
The regular edition includes a remix of Rydeen -Dance All Night- by m-flo
The limited edition comes with a bonus DVD featuring the music video.
Furthermore, E-Girls participated in the MTV Video Music Awards Japan 2014 (VMAJ) on MTV Asia in June 2014. They won the Best Choreography Award for Gomennasai no Kissing You (ごめんなさいのKissing You).
Happiness released their 6th single Juicy Love on May 28.
Flower's 7th single Nettaigyo no Namida (熱帯魚の涙) is on sale since June 11.
Tracklist
Regular Edition

CD

E.G. Anthem -We Are Venus-
Chocolat (ショコラ)
Rydeen -Dance All Night- m-flo Remix
E.G. Anthem -We Are Venus- (Instrumental)
Chocolat (ショコラ) (Instrumental)
Limited Edition

CD

E.G. Anthem -We Are Venus-
Chocolat (ショコラ)
E.G. Anthem -We Are Venus- (Instrumental)
Chocolat (ショコラ) (Instrumental)

DVD

E.G. Anthem -We Are Venus- (Video Clip)
Music Video (PV)