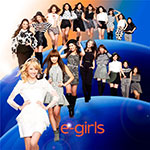 E-Girls' new single Kurukuru (クルクル) will be released on November 20.
This 7th single from E-Girls has a more stylish and adult atmosphere.
The CD contains 4 different songs. The limited edition comes with a bonus DVD featuring the music video.
A special edition including only the title song will be exclusively on sale at LDH mobile shop, Mu-mo shop, and live events.
Check out the music video.
Furthermore, E-Girls' 6th single Gomen Nasai no Kissing You (ごめんなさいのKissing You) is on sale since October 2. It was ranked 2nd on Oricon Weekly Chart.
Regular Edition
CD

Kurukuru (クルクル)
Sayonara (サヨナラ)
Winter Love ~Ai no Okurimono~ (Winter Love ~愛の贈り物~)
I Heard a Rumour ~Uwasa Wassap!~ (I Heard A Rumour ~ウワサWassap!~)
Kurukuru (クルクル) (Instrumental)
Sayonara (サヨナラ) (Instrumental)
Winter Love ~Ai no Okurimono~ (Winter Love ~愛の贈り物~) (Instrumental)
I Heard a Rumour ~Uwasa Wassap!~ (I Heard A Rumour ~ウワサWassap!~) (Instrumental)
Limited Edition
CD

Kurukuru (クルクル)
Sayonara (サヨナラ)
Winter Love ~Ai no Okurimono~ (Winter Love ~愛の贈り物~)
I Heard a Rumour ~Uwasa Wassap!~ (I Heard A Rumour ~ウワサWassap!~)
Kurukuru (クルクル) (Instrumental)
DVD

Kurukuru (クルクル) (Music Video)
Special Edition
Music Video (PV)