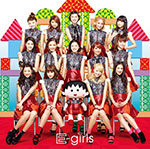 E-Girls' new single Odoru Pompokolin (おどるポンポコリン) will be released on August 13.
It is the 2nd part of the series of 3 singles released by E-Girls in 3 months.
The music video has been unveiled.
Odoru Pompokolin (おどるポンポコリン) is the opening theme song for the anime Chibi Maruko Chan (ちびまる子ちゃん) airing on Fuji TV since May 2014
The theme of the costumes is "the 4 seasons". In the music video, the members of E-Girls pass through the winter, the spring, the summer and the autumn in a colorful magical train.
Some limited editions are available either with a colorful tote bag set or with a hand towel.
Moreover, Ami, Fujii Karen, Washio Reina and Takebe Yuzuna appeared in a video to teach the choreography of the Pihyara Dance (ピーヒャラダンス).
Tracklist
Regular Edition

CD

Odoru Pompokolin (おどるポンポコリン)
Ureshii! Tanoshii! Daisuki! (うれしい!たのしい!大好き!)
Odoru Pompokolin (Instrumental)
Ureshii! Tanoshii! Daisuki! (Instrumental)
Limited Edition

CD

Odoru Pompokolin
Ureshii! Tanoshii! Daisuki!
Odoru Pompokolin (Instrumental)

DVD

Odoru Pompokolin (Video Clip)
Odoru Pompokolin (Animation Clip)
Music Video (PV)