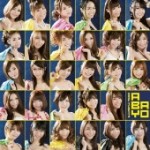 Ebisu Muscats' 9th single Abayo will be released on March 6.
The limited edition comes with a bonus DVD featuring the music video.
This will be their last single as the idol group is going to disband on April 7.
Ebisu Muscats' last album Sotsugyou Album (卒業アルバム) will be released on April 3.
Tracklist
CD

Abayo
Album (アルバム)
Abayo (Instrumental)
Album (アルバム) (Instrumental)
DVD (Limited Edition)

Abayo (Music Video)
??
Ebisu Muscats – Abayo (MV Short Ver.)