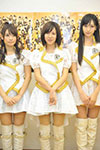 Endo Mai announced her graduation from Idoling!!!.
Endo Mai explained that she decided to leave the idol group in order to focus on her solo activities.
Her graduation live and ceremony, entitled Sayonara wa Wakare no Kotoba Janakute Futatabi Au Made no Tooi Yakusoku ng! ! ! (さよならは別れの言葉じゃなくて 再び逢うまでの遠い約束ング!!!), will be held on February 14 at Zepp DiverCity Tokyo.
Endo Mai, 25 years old, is the leader of Idoling!!!. She joined the unit in 2006 as an original member. She is the number 3. Her 1st solo single Today is the Day is on sale since July 31.
Furthermore, Idoling!!! will release their new album Gold Experience on January 8.