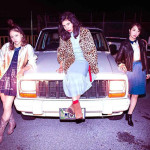 The new single of Especia Danger will be released on December 7.
A short version of the video clip was uploaded.
The CD will contain only two tracks.
The songs Danger and Rainy Blues were composed and produced by Takahashi Kai from Lucky Tapes.
It will serve as the ending theme for the cooking show Ameagari Club (雨上がり倶楽部) broadcast on Kansai TV.
In addition, former Especia member Wakita Monari released her first solo single In the City on November 16.
Tracklist
CD

Danger
Rainy Blues (レイニー・ブルース)
Music Video (PV)