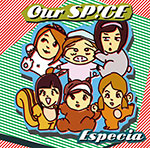 Especia's new single Our Sp!ce was released on December 18.
The single is exclusively on sale at HMV. The CD includes only one song. It comes from the collaboration between Especia and HMV Idol Gakuen (HMVアイドル学園).
The music video has been released.
Furthermore, Especia will hold live performances on December 26 at Osaka Rocktown and on January 11 at Daikanyama Unit in Tokyo.
Tracklist
Our Sp!ce
Music Video (PV)