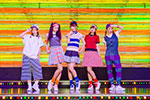 Idol group Especia announced in late December the release of its new EP Primera planned for February 18, 2015.
The list of titles and the new album covers were unveiled.
Primera is the third mini album of Especia but also their first to be released under a major label Version Music (Victor Entertainment), as the title of the new EP could indicate it (« primera » Spanish term meaning « first »). The previous mini albums are Dulce and Amarga.
It is also the first disc of the group now reduced to five members since Sugimoto Akane left it in last October.
This mini album will be sold in two editions: regular (CD of 9 tracks overall) and limited (the same CD with bonus tracks surchage).
The music video in short version of the new song We are Especia ~Nakinagara Dancing~ has been posted on YouTube. Discover it below.
Tracklist
Regjlar Edition

CD

We are Especia ~Nakinagara Dancing~ (We are Especia ~泣きながらダンシング~)
Interlude
West Philly
Sweet Tactics
Secret Jive (シークレット・ジャイヴ)
Skit
Sayonara Cruisin (さよならクルージン)
Security Lucy
Outro
Limited Edition

CD

We are Especia ~Nakinagara Dancing~ (We are Especia ~泣きながらダンシング~)
Interlude
West Philly
Sweet Tactics
Secret Jive (シークレット・ジャイヴ)
Skit
Sayonara Cruisin (さよならクルージン)
Security Lucy
Outro

Bonus track

Secret Jive (PellyColo M1 Fantasy Remix) (シークレット・ジャイヴ)
Sayonara Cruisin (PellyColo Rainbow Steam Remix) (さよならクルージン)
Security Lucy (Insecure Booty Mix)
Security Lucy (VINYL7 DUB)
West Philly (instrumental)
Sweet Tactics (instrumental)
Secret Jive (instrumental)
Sayonara Cruisin (Instrumental)
Security Lucy (Instrumental)
Music Video (PV)