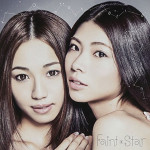 Faint Star's 1st single koboreteshimattamizunoyouni will be released on July 29.
Faint Star is an idol group consisting of former Tomato n' Pine (Tomapai) member Hina and Yuria.
The MV for Sleeping in your Car was filmed using stop motion.
The girls appear in the streets of Tokyo in the PV for Re Mi Ra (レ・ミ・ラ).
The 3 videos include English subtitles.
The leading song koboreteshimattamizunoyouni was written and composed by Komoda.
The lyrics of Sleeping in your Car were written by Kishi Mika. The mysic was composed by Tanaka Hidenori and arranged by Kosai Akishi.
Matsuno Kyohei and Tamai Kenji made the lyrics of Re Mi Ra. The music was composed and arranged by Orange Spotting.
Faint Star is an idol group produced by Agehasprings.
Tracklist
koboreteshimattamizunoyouni
Sleeping in your Car
Re Mi Ra (レ・ミ・ラ)
Super Summer Wonder (スーパー・サマー・ワンダー)
Music Video (PV)