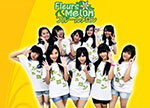 Fleurs Meron is an Indonesian idol group from Bandung consisting of 10 members.
They were formed in December 2013 and have already released 2 singles Wahai Sahabat and Keep Moving.
Check out our interview with the members of Fleurs Meron.
Could you introduce yourselves ?
Memaniskan hari dengan senyuman! Kami Fleurs Meron ! Yoroshiku. (Sweeten the day with a smile ! We are Fleurs Meron !)
We are from Bandung, Indonesia. Our idol group was formed on December 23, 2013.
If each member could describe herself in one word, what would it be ?
Nana : Beautiful
Eva : Childish
Tiara : Lovely
Dessy : Cool
Riri : Cute
Kira : Tomboy
Zenia : Young
Iren : Loli
Elis : Kirei (beautiful)
Puspita : Pretty
Fleurs Meron has released 2 songs Wahai Sahabat and Keep Moving. How are they ?
Wahai Sahabat is about friendship.
Keep Moving is about a girl who moves away from a boy who doesn't have the same feelings as her.
We made the songs together and we had a lot of improvement. Thanks God we've released our songs and we had a lot of fans who love them.
Do you hold regular live performances ?
We have not played any regular live show yet. But someday we will hold regular live performances.
Are you fans of Japanese idols ? If so, what are your favorite groups ?
Yes, of course. We love especially Afilia Saga and Dempagumi.inc.
Are idols popular in Indonesia ?
The most popular idols in the country are JKT48.
What are your goals for the future ?
Our goal in the future is to become famous in Indonesia, in Japan and all over the World. And not to forget to make all those inspired by our work.
Do you have a message for your fans ?
Keep supporting us and loving us forever !