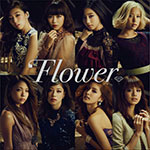 Flower's new single Akikaze no Answer (秋風のアンサー) will be released on November 12th.
This is the 8th single from Flower and their last one featuring Muto Chiharu as she has just announced her withdrawal from the female dance and vocal unit.
The PV has been unveiled.
The music video is in the continuation of Flower's previous singles Shirayuki Hime (白雪姫) and Nettaigyo no Namida (熱帯魚の涙). It was directed by Kubo Shigeaki. It shows the girls singing and dancing in an autumnal atmosphere.
Akikaze no Answer is a love song with a beautiful melody and lyrics depicting various emotions.
It is the theme song for the drama Binta! ~Bengoshi Jimuin Minowa ga Ai de Kaiketsu Shimasu~ (ビンタ!~弁護士事務員ミノワが愛で解決します~) starring Matsumoto Toshio (Exile).
3 versions are available.
Tracklist
Regular Edition

CD

Akikaze no Answer (秋風のアンサー)
Flower Garden
Shirayuki Hime (白雪姫) (Remix)
Akikaze no Answer (Instrumental)
Flower Garden(Instrumental)
Limited Edition

CD

Akikaze no Answer
Flower Garden
Koi ni Ochitara (恋におちたら)

DVD

Akikaze no Answer (Music Video)
Music Video (PV)