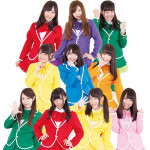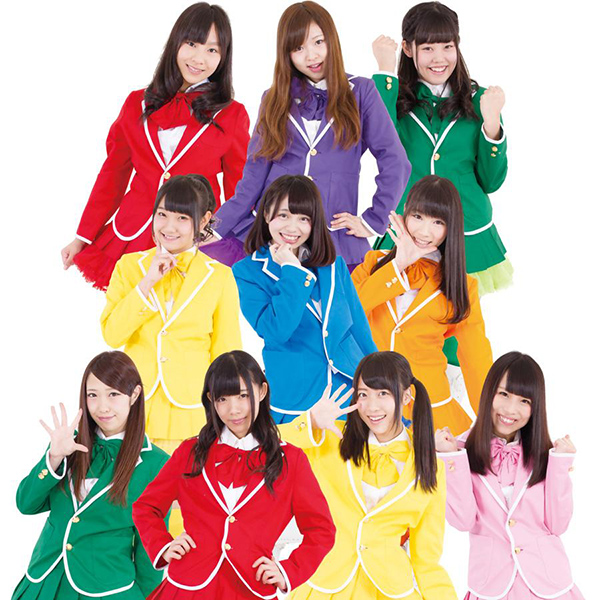 Fruity (フルーティー) is a Japanese idol group formed in March 2011.
It currently consists of 12 members. Each one of them has been assigned a fruit and a color.
The leader is Obara Yuka whose nickname is Obachi.
Biography / History
Fruity is based in Sapporo on Hokkaido island.
Their catchphrase is "From Hokkaido to nationwide" (北海道から全国へ).
The idol unit holds regular live performances titled Fruits Basket (フルーツバスケット).
Their debut single Sakurairo (サクライロ) was released in May 2011.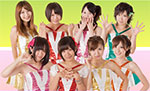 The idol unit was finalist of the U.M.U Award 2011 and 2012.
Fruity First Photo Book was published in December 2012.
Their sister group Fresh! (フレッシュ!) was formed in 2013. Kitade Sai and Ito Yumemo were part of this unit until October 2013.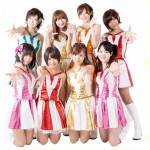 The members host a regular variety show titled Internet TV (インターネットTV) and broadcast on YouTube since June 2013.
The girls participate in the TV program Fruit Appli Onna Gakuen (フルーツアプリ女学園) airing weekly on the local channel UHB since October 2013.
Their 2nd sister group Happy Shoujo (Happy少女♪) was created in February 2015.
A popularity ranking of the members is established every month. It is based on votes by the fans.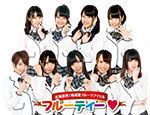 Ayase Rino was previously part of Jelly Kiss.
Minato Honami is a former member of Whip Girls.
Fujimoto Rina belonged to Team Crerekko (Teamくれれっ娘).
Profile
Fruity (フルーティー)
Years active : 2011 – present
Label : –
Agency : Live Pro
Members
Misato
Sai (さい) / Kitade Sai (北出彩) | Grapefruit / Yellow
Obachi (おばち) – Obara Yuka (小原優花) | Lime / Green
Mai (まい) / Ito Mai (伊藤舞) / Lemon / Yellow
Seia (せいあ) / Tezuka Seia (手塚星明) | Blueberry / Blue
Honosa (ほのさ) / Arimura Honosa (有村ほのさ) / Coconuts / White
Momoko (ももこ) / Nagakubo Momoko (長久保桃子) / Japanese plum / Pink
Kurumi (くるみ) / Hara Kurumi (原くるみ) | Kiwi fruit / Green
Rina (りな) / Fujimoto Rina (藤元理奈) | Mango / Orange
Korina (こりな) / Matsumoto Rina (松本りな) | Strawberry / Red
Rina (りな) / Kurosawa Rina (黒澤里那) / Plum / Purple
Reia (れいあ) / Sato Reia (佐藤玲愛) / Orange / Orange
Former Members
Mayu (まゆ) / Ishikawa Mayu (石川まゆ) | Black currant / Purple
Yukari (ゆかり) / Sato Yukari (佐藤由花梨) | Muscat grape / Green
Arisa (ありさ) / Takashima Arisa (高島亜梨沙) | Raspberry / Red
Marina (まりな) / Aoki Marina (蒼木まりな) | Melon / Green
Yuki (ゆき) / Yuzuki Yuki (柚槻夕貴) | Blueberry / Blue
Asuka (あすか) / Saito Asuka (齋藤あすか) | Lychee / White
Anzu (あんず) / Miyazaki Anzu (宮﨑あんず) / Apricot / Orange
Risa (りさ) / Higashi Risa (東理沙) | Pineapple / Yellow
Aya (あや) / Yoshida Aya (梵礼) | Strawberry / Pink
Maho (まほ) / Onishi Maho (大西真帆) | Cherry / Red
Yui (ゆい) / Tamura Yui (田村唯) | Lemon / Yellow
Mizuki (みづき) / Sakuragi Mizuki (桜木美月) | Peach / Pink
Hazuki (はづき) / Minami Hazuki (南はづき) | Melon / Green
Yuka (ゆうか) / Uno Yuka (宇野祐生佳) | Peach / Pink
Yumeno (ゆめの) / Ito Yumeno (伊藤結女乃) | Tangerine / Orange
Arika (ありか) / Tsugawa Arika (津川愛梨花) | Honeysuckle / Purple
Misa (みさ) / Shirai Misa (白井美彩) | Apple / Red
Rino (りの) / Ayase Rino (綾瀬りの) | Dragon fruit / Pink
Honamin (ほなみん) / Minato Honami (湊帆洋) | Yuzu / Yellow
Airi (あいり) / Taniguchi Airi (谷口あいり) | Grape / Purple
Discography
Singles
27/05/2011 : Sakurairo (サクライロ)
23/09/2011 : Captive
23/09/2011 : Happy Smile
20/11/2011 : Fruit Idol! Fruity♥ (フルーツアイドル! フルーティー♥)
04/02/2012 : Fure! Fure! Nihon (フレ! フレ! 日本)
21/04/2012 : Kisuidagamiki (♥キスイダガミキ)
23/06/2012 : Hokkai DooooooN!! (北海DooooooN!!)
03/08/2012 : Nachu! (ナチュッ!)
03/11/2012 : Positive (ポジティV)
09/01/2013 : Gachi (ガチ)
17/02/2013 : Watashi wa Anata no Idol (私は、あなたのアイドル♥)
25/10/2013 : Sotsugyou (卒業)
14/02/2014 : Dear My Friend
23/05/2014 : Ai no Big Bang (愛のビッグ♥バン)
25/07/2014 : We Are! (ウィーアー!)
02/08/2014 : Gyu♥ (ぎゅっ♥)
22/01/2015 : Smile (スマイル)
24/04/2015 : Wotaku wa Hero (ヲタクはヒーロー)
24/06/2015 : Someday
Albums
03/11/2012 : Fruit Parfait Vol.1
03/11/2012 : Fruit Parfait Vol.2
28/03/2014 : One
25/02/2015 : Kajitsu Kishoutenketsu (果実 起承転結)
Links
News