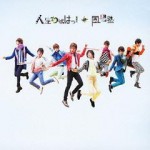 Fudanjuku's 9th single Jinsei Wahaha! (人生わははっ!) will be released on January 9.
The regular edition contains 3 songs plus instrumental versions.
The limited editions include a bonus DVD featuring music video, making-of and live video depending the version.
Jinsei Wahaha! is the ending theme for the anime Ginga e Kickoff!! (銀河へキックオフ!!).

Regular Edition
CD

Jinsei Wahaha! (人生わははっ!)
Yuki no Yoru (雪の夜)
Senpai no Kanojo (センパイの彼女)
Jinsei Wahaha! (人生わははっ!) (Instrumental)
Yuki no Yoru (雪の夜) (Instrumental)
Senpai no Kanojo (センパイの彼女) (Instrumental)
Limited Edition Type A
CD

Jinsei Wahaha! (人生わははっ!)
Yuki no Yoru (雪の夜)
DVD

Jinsei Wahaha! (人生わははっ!) (Music Video)
Jinsei Wahaha! (人生わははっ!) (Making-of)
Limited Edition Type B
CD

Jinsei Wahaha! (人生わははっ!)
Yuki no Yoru (雪の夜)
DVD

Jinsei Wahaha! (人生わははっ!) (Music Video)
Jinsei Wahaha! (人生わははっ!) (Live Video 2012.11.22 at Shibuya O-East)