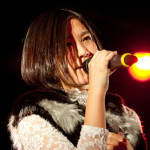 Fujita Akari announced her graduation from Party Rockets.
She told on her blog that she had decided to leave the idol group in order to pursue her dream.
As a result, Party Rockets are going to hold auditions to recruit new members.
Fujita Akari said that she thought a lot about her future, and that the best way to realize her dream is to follow her own path. She hasn't given further details about it.
She was a member of Party Rockets since 2012.
In addition to her activities, Fujita Akari had joined GALETTe as a temporary member in February 2015.
The profile picture of Party Rockets has been updated on their official website. There are only the 2 remaining members Yoshiki Haruka and Kikuchi Fumika.