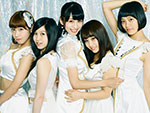 Fujita Akari and Noda Reina joined GALETTe as new members.
Fujita Akari (藤田あかり) is a former member of Party Rockets. She graduated in July, but she has finally decided to pursue her career with a new idol group.
Noda Reina (野田怜奈) was previously part of Happy Dance. She served as backup dancer for Dorothy Little Happy.
Fujita Akari had already collabprated with GALETTe as a temporary member last Spring. She told that she had liked this experience.
This announcement was made on August 9 during the one-man live of the idol group at Shinjuku Blaze.
The 5 members performed together their new song Belive for the first time on stage.
Furthermore, GALETTe's 5th single Air Summer / Shijou no Ai is on sale since July 22.
The idol unit is going to hold its biggest concert on December 29 Zepp DiverCity Tokyo.