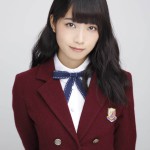 Fukagawa Mai announced her graduation from Nogizaka46.
Maimai will leave the idol group in May or June. She will participate in the various events (handshake…) held for the release of Nogizaka46's 14th single which is going to be on sale on March 23rd.
Fukagawa Mai made this announcement on her own blog on January 7th. She explained that she was thinking about her graduation for almost one year. She took this decision because wants to start a new chapter in her life.
Fukagawa Mai is 24 years old. She is a 1st generation member of Nogizaka46 that she joined in August 2011.