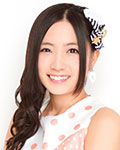 Furukawa Airi announced her graduation from SKE48.
She will continue her activities with the idol group from Nagoya until her graduation ceremony scheduled on March 31.
Furukawa Airi is the leader of SKE48 Team KII.
She explained that she wanted to follow her new dreams without giving further details. She said that she was going to keep her smile until the end.
This announcement was made on February 1 during the live performance of the idol group at their theater.
Furukawa Airi is a 2nd generation member of SKE48. She is 25 years old.