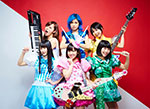 Gacharic Spin is a Japanese female rock band formed in June 2009.
It currently consists of 6 members : 4 musicians and 2 dancers.
Like Japanese idol groups, each one has been assigned a color.
The leader is F Chopper Koga. She is a former member of The Pink Panda.
Tomo-Zo and Oreo Reona were previously part of Eu Phoria.
Hana is an ex-member of Armeria (アルメリア).
Biography / History
In 2009, F Chopper Koga decided to form a new rock band with Hana after the disbandment of The Pink Panda. Both girls were high school classmates. Eita and Armmy joined them.
Gacharic Spin held their 1st live tour Across the now! in October 2009.
Eita withdrew in November 2009.
Tomo-Zo passed an audition and replace her in December 2009.
Their 1st single Lock On!! was released in March 2010.
F Chopper Koga, Hana and Tomo-Zo released instructional DVDs in 2010 and 2011.
Gacharic Spin were invited at Anime Matsuri in Houston (USA) in March 2011. It was their first overseas live performance.
The girls made an appearance at Dongducheon Rock Festival (Soyo Rock Festival) in South Korea in October 2011.
F Chopper Koga, Tomo-Zo and Hana participated in Hatsune Miku (初音ミク) -Project Diva- extend on PlayStation Portable as motion capture actresses.
In February 2012, Gacharic Spin worked in collaboraton with AKB48 on the idol group's 25th single Give Me Five.
Vocalist Armmy withdrew in March 2012 due to health problems.
Oreo Reona joined the female J-Rock band a few days later.
Gacharic Spin held an European Tour and performed at Japanimes festival in Nîmes (France) in May and June 2012.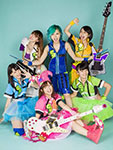 2 dancers, Mai and Arisa, were added to the band in June 2014. They perform on stage during the concerts and in the music videos. They are called Gacha Gacha Dancers (ガチャガチャダンサーズ).
Gacharic Spin participated in Japan Expo 2014 in Paris Nord Villepinte (France) in July 2014. You can check out our report on the concert Gacharic Spin Live at Japan Expo.
Gacharic Spin made their major debut in October 2014 with the album Gachatto Best (2010-2014) (ガチャっとBEST<2010 – 2014>) released under the label Victor Entertainment.
Their 1st major single Sekira Liar / Tokenai Candy (赤裸ライアー / 溶けないCandy) went on sale in February 2015. It includes the ending theme song for the anime Tenkai Knights (テンカイナイト).
The all-female rock band's 2nd major single Don't Let Me Down, on sale in June 2015, is the ending theme song for Dragon Ball Kai (ドラゴンボール改) anime series.
Arisa announced her graduation in July 2015.
Gacharic Spin are going to hold a concert at the 2015 J-Pop Summit in San Francisco, USA, in August.
Profile
Gacharic Spin (ガチャリック スピン)
Years active : 2009 – present
Label : Victor Entertainment
Agency : briskcrew .inc
Members
F Chopper Koga (F チョッパー Koga) – Bass – Yellow
Tomo-Zo – Guitar – Pink
Hana (はな) – Drums – Blue
Oreo Reona (オレオレオナ) – Keyboard – Purple
Mai (まい) – Performer – Light Blue
Arisa (ありさ) – Performer – Green
Former Members
Eita – Guitar
Armmy – Vocal
Discography
Singles
05/03/2010 : Lock On!!
02/06/2010 : Hunting Summer (ハンティングサマー)
08/09/2010 : Yukinaku ~ Setsunaku ~ Melody (泣く~setsunaku~メロディー)
27/06/2012 : Nudie Rhythm (ヌーディリズム)
19/03/2014 : Boku Dake no Cinderella (僕だけのシンデレラ)
25/02/2015 : Sekira Liar / Tokenai Candy (赤裸ライアー / 溶けないCandy)
03/06/2015 : Don't Let Me Down
Mini-Albums
Albums
06/03/2013 : Delicious
09/04/2014 : Winner
01/10/2014 : Gachatto Best (2010-2014) (ガチャっとBEST<2010 – 2014>)
Links
News