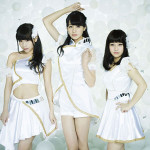 GALETTe's 5th single Air Summer / Shijou no Ai (至上の愛) will be released on July 22.
This long-awaited single is the first one by GALETTe since last year. It is a double A-side.
The disc is produced by Asakura Daisuke who is known for his work with famous Japanese artists such as TM Revolution and Access.
The lyrics of Air Summer were written by Asakura Makoto. The music was composed and arranged by Asakura Daisuke.
It is described as an eclectic disco song inspired by GALETTe style. According to the producer, it is a summer song featuring "air guitar" and "air vocal".
The coupling song Shijou no Ai (至上の愛) was written and composed by Ijichi Hiromasa. It was arranged by Sakuma Makoto.
It is a love ballad.
Moreover, GALETTE will hold a series of live performance across Japan from June 5 to June 18.
Tracklist
CD

Air Summer
Shijou no Ai (至上の愛)
Air Summer (Instrumental)
Shijou no Ai (Instrumental)
DVD

Air Summer (Music Video)