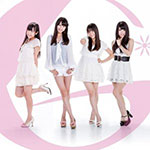 GALETTe's new single G will be released on October 30.
This is the debut single from GALETTe.
The MV has been released.
G is described as an energetic song.
GALETTe is a new idol group consisting of Shishima Saki, Nonoko, Hosaka Ayano, and Murakawa Shihori.
Only one edition is available. The CD includes 2 songs.
Tracklist
G
Neo Disco
Music Video (PV)