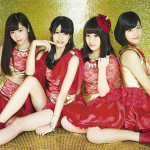 GALETTe's 1st mini-album Grooving Party will be released on March 25.
The album contains 7 songs including their first 4 singles and 3 new songs.
The new artist photo of GALETTe featuring Fujita Akari (Party Rockets), who has temporarily joined the idol group, has been revealed.
The girls wear red and gold dresses highlighting the contrast between the colors.
4 versions of Grooving Party will be on sale, e.g. one for each regular member of GALETTe (Shishima Saki, Nonoko, Komori Yui) and another one for the whole idol group. The track listing is the same for each, the only difference is the CD cover.
The album includes a bonus DVD featuring the music videos from the singles G, Jajauma to Yobanaide, Brand-New Style and She Is Wannabe!.
Furthermore, GALETTe are going to hold auditions to recruit a new member. It is open to girls between 12 and 22 years old. The application deadline is March 15.
Tracklist
CD

Jump! for a Dream
Pink Cotton Flower
Upbeat People
G
Jajauma to Yobanaide (じゃじゃ馬と呼ばないで)
Neo Disco
She Is Wannabe!
DVD

G (Music Video)
Jajauma to Yobanaide (Music Video)
Brand-New Style (Music Video)
She Is Wannabe! (Music Video)