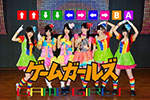 Game Girls (ゲームガールズ) is a Japanese idol group formed in February 2014.
It currently consists of 6 members. Each one of them is in charge of a type of video game.
Game Girls is part of Alice Project (アリスプロジェクト). The unit is a sister group of Alice Juban (Alice No.10), Steamgirls, Armor Girls Oz, Machikado Keiki Japan, and Idol Yokai Kawayushi.
Tachibana Anna, Mori Kanon, Sakura Nodoka and Watanabe Maari are also members of Alice Juban. Sakura Yuki is a member of Steamgirls. Kubota Misa belongs to Armor Girls.
Game Girls are going to hold their 1st live performance on March 6, 2014 at P.A.R.M.S. Theater in Akihabara in Tokyo.
The idol unit aims to appear in a CM for a video game and to participate in Tokyo Game Show 2014 (東京ゲームショウ2014) on September 18.
Profile
Game Girls (ゲームガールズ)
Years active : 2014 – present
Label : –
Agency : Kleeblatt
Members
Tachibana Anna (立花あんな) – Fighting games
Mori Kanon (森カノン) – Sports games
Sakura Nodoka (桜のどか) – RPG
Watanabe Maari (渡辺まあり) – Action games
Sakura Yuki (桜雪) – FPS
Kubota Misa (窪田美沙) – Other video games
Discography
Singles
Albums
Links
News