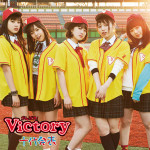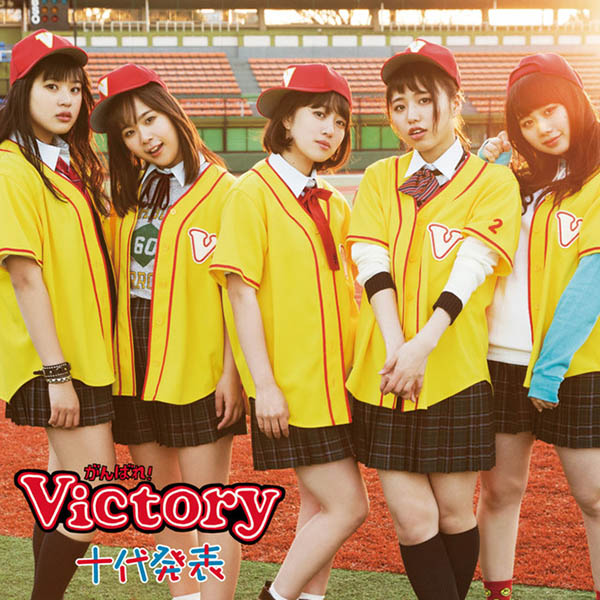 Ganbare! Victory's 1st major album Juudai Happyou (十代発表) will be released on March 16th.
This album contains 14 tracks including songs from Ganbare! Victory's latest singles Zenryoku! Start / Yume wo Tsuzuki (全力!スタート / 夢のつづき), Lalilalila (ラリラリラ) and Seishun! Hero (青春!ヒーロー).
The MV for the new song Sayonara (サヨナラ) has been revealed.
The title Juudai Happyou (十代発表) means "teenage announcement". Since all the members of the rock and idol group are now 20 years old, the CD is a little bit like a compilation from this period.
As usual, the girls are wearing baseball uniforms on the cover artwork and on their profile picture.
3 3 7 Hyoushi (三三七拍子) is the theme song for Saitama Seibu Lions (埼玉西武ライオンズ) TV show. The members of Ganbare! Victory had been appointed PR ambassadors of the Lions Yellow Series last year.
The limited edition comes with a DVD featuring a guided tour of Karatsu by the members of the bandol. It is their hometown. The bonus disc also includes live footage of songs from their indie era, KGSD and Fly High!!! (ふらいはい! ! !), recorded in January 2016 at Shibuya Milkyway.
Tracklist
CD

Wonder Journey
Zenryoku! Start (全力!スタート)
Bokura no Mirai (ボクラノミライ)
Yume no Tsuzuki (夢のつづき)
3 3 7 Hyoushi (三三七拍子)
Scarred
booing!
3rdシングル投票1位曲
Sayonara (サヨナラ)
Dear
Seishun! Hero (青春!ヒーロー)
Lalilalila (ラリラリラ)
Go my way!!
Mata Ashita (また明日)
DVD

Ganbare! Victory no Karatsu Annai (メンバーが故郷・唐津を案内する「がんばれ! Victoryの唐津案内」)
KGSD
Fly High!!! (ふらいはい! ! !)
Music Video (PV)