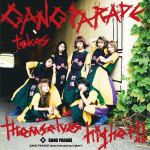 The new album Gang Parade takes themselves higher!! by Gang Parade will be released on November 21st.
This is the second album of the group under its name.
Check out the MVs for Gang Parade and Iminai Uta.
Only one edition will be available.
The CD will contain a total of 10 songs. You can find the latest singles: Plastic 2 Mercy (re-recorded under the name Gang Parade, this single was originally released by the band under the name Pla2me), Foul and Beyond the Mountain.
This is the first album with Aya Eight Prince (member of BiS) and without Kamiya Saki (member of the Gang Parade), exchanged their positions in early May for an indefinite period.
Tracklist
Iminai Uta (イミナイウタ)
GANG PARADE
Are you kidding?
Futsuu no Nichijou (普通の日常)
FOUL
I need you I love you I want you
Plastic 2 Mercy
TIE
Beyond the Mountain
CAR RADIO
Music Video (PV)