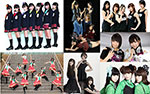 Jewel Kiss, Tochiotome25, Negicco, Shizukaze & Kizuna, Mary Angel, Manaminorisa, and Hime Kyun Fruit Can will perform at Gotochi Kitty 15th Anniversary Special Live (ご当地キティ15周年アニバーサリー・スペシャルライブ in サンリオピューロランド).
The concert will be held on August 18 at Sanrio Puroland Entertainment Hall in Tokyo.
2 live performances are scheduled, one at noon and another one in the afternoon.
The event is supported by @Jam.
Gotochi Kitty is a type of Hello Kitty products having for theme some local tourist attractions.
Schedule
Date : 18/08/2013
Time : 11:00 (1st part) / 15:00 (2nd part)
Venue : Sanrio Puroland Entertainment Hall, Tokyo
Idols :

Jewel Kiss
Tochiotome25
Negicco
Shizukaze & Kizuna
Mary Angel
Manaminorisa
Hime Kyun Fruit Can