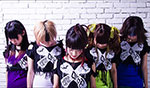 Guso Drop (偶想Drop) is a Japanese idol group formed in 2014.
It currently consists of 5 members. Each one has been assigned a color.
Biography / History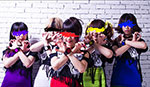 Guso Drop are nicknamed "soft prick idol".
The girls perform punk rock songs.
The idol unit is based in Tokyo.
Guso Drop held their debut live perfoance in September 2014 at Shibuya Milkyway.
Shion appears on the Cheerz mobile app for smartphones since March 2015.
Their 1st mini-album Meshi no Tane (飯ノ種) was released in April 2015.
Profile
Guso Drop (偶想Drop)
Years active : 2014 – present
Label : –
Agency : DM Produce
Members
Shion (紫音) – Purple
Yura (結良) – Yellow
Saki (

咲) – Red

Rei (零) – White
Anna (杏奈) – Blue
Discography
Singles
Albums
22/04/2015 : Meshi no Tane (飯ノ種)
Links
News