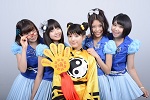 The 1st volume of Hao Hao! Kyonshi Girl ~Tokyo Denshidai Senki~ (好好!キョンシーガール〜東京電視台戦記〜) drama series starring Kawashima Umika and other members of 9nine will be released on December 12.
The drama Hao! Hao! Kyonshi Girl started being aired on TV Tokyo on October 12.
Kawashima Umika plays the role of a Daoshi (a priest in Taoism) fighting against Jiang Shi (Chinese vampire or zombie).
The DVD includes episodes 1-3.