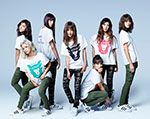 Happiness is a Japanese dance and vocal girl group formed in October 2008 and produced by LDH.
It currently consists of 7 members.
The leader is Ariiso Miyuu.
The girls are also part of E-Girls along with Dream and Flower.
Biography / History
Happiness was originally a 5-member unit consisting of Kaede, Miyuu, Mimu, Karen, and Sayaka.
The girls performed as backup dancers during Exile Live Tour in 2008.
In July 2009, Yurino joined the group after her victory in the LDH Dream Girls Audition 2008.
Happiness released their 1st single Happy Talk in October 2009.
Their major debut single Kiss Me was released in February 2011.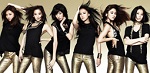 Mimu graduated in January 2012.
Sugieda Mayu had to stop her activities between August 2012 and August 2013 due to a medical treatment.
In May 2013, Suda Anna and Kawamoto Ruri from E-Girls were added to the unit.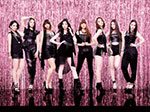 In July 2013, the battle Happiness vs Flower was organized. The winner was the group which had the most CD sales, people at live events, YouTube views… Flower won the competition.
In the beginning of 2014, Happiness were transferred to the label Rhythm Zone which is part of Avex group.
Takeda Kyoka, Dobayashi Kaede, Fujii Karen and Suda Anna were starring in the drama Koibumi Biyori (恋文日和) broadcast on NTV between January and March 2014. It was their first experience as actresses.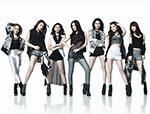 Sugieda Mayu announced her withdrawal in April 2014 in order to pursue her career as a solo artist.
Fujii Karen and her sister Shuuka (Flower) appeared in a commercial for Fasio (ファシオ) makeup cosmetics in January 2016. The CM song was Happiness' single Sexy Young Beautiful.
The track Born to Be Free, from this CD, was used to promote the Cirque du Soleil show Totem in Japan in February 2016. The choreography was arranged by Sayaka and Yurino.
Kaede and Fujii Karen appeared in a commercial for Samantha Vega, along with E-Girls' Sato Harumi and Fujii Shuuka, in February 2016.
Fujii Karen and Suda Anna participated in a campaign for Beats by Dr. Dre headphones in March 2016.
Hapiness' Always is the theme song for the film Itazura na Kiss The Movie ~High School Hen~ (イタズラなKiss The Movie~ハイスクール編~) which is going to be released in November 2016 in Japan.
Profile
Happiness (ハピネス)
Years active : 2008 – present
Label : Rhythm Zone
Agency : LDH
Members
Sayaka (サヤカ) – Nagatomo Sayaka (長友さやか)
Kaede (楓) – Dobashi Kaede (土橋楓)
Fujii Karen (藤井夏恋)
Miyuu (ミユウ) – Ariiso Miyuu (有磯実結)
Yurino (ユリノ) – Suzuki Yurino (鈴木結莉乃)
Suda Anna (須田アンナ)
Kawamoto Ruri (川本璃)
Former Members
Mimu (ミム) – Hioki Mimu (日置美夢)
Sugieda Mayu (杉枝真結)
Discography
Singles
21/10/2009 : Happy Talk
09/02/2011 : Kiss Me
27/04/2011 : Friends (フレンズ)
17/08/2011 : Wish
16/05/2012 : We Can Fly
07/08/2013 : Sunshine Dream ~Ichido Kiri no Natsu~ (~一度きりの夏~)
28/05/2014 : Juicy Love
19/11/2014 : Seek a Light
14/10/2015 : Holiday
03/02/2016 : Sexy Young Beautiful
Albums
Links
News