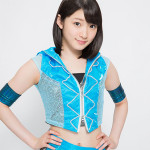 Miyamoto Karin (宮本佳林) birthday is today and may all of her birthday wishes come true.
She is a Japanese pop singer, idol, actress and model who is signed to Hello! Project. Miyamoto Karin is a member of Juice=Juice since February 3, 2013 and her member colour is grape. She is a former member of Hello Pro Kenshuusei (November 24, 2008 – November 18, 2013) as part of the 5th generation. She was also a member of Shin Minimoni  (2009 – 2011) and Satoyama Movement unit Jurin (2013 – 2016).
Her 1st photobook Karin was published in June 2014.
"I'll make this year better than last year." (February 2014)
She is known as Karin, former name Kopink. Miyamoto Karin was born on December 1, 1998. She is from Chiba prefecture in Japan and her zodiac sign is Sagittarius.
She will celebrate her birthday during a special event called Juice=Juice Miyamoto Karin Birthday Event 2016. 2 live performances will be held at Yamano Hall in Tokyo.
Q/A
Hobbies : yoga
Speciality : badmintion
Dislike : drawing
Favorite Animal : cat
Favorite Food : fruit