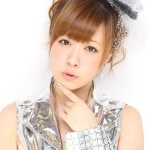 Shimizu Saki (清水佐紀) birthday is today and may all of her birthday wishes come true.
Shimizu Saki is a Japanese pop idol, actress, model and Hello! Project (ハロー!プロジェクト) advisor as well. She was a former member of H!P, having joined Hello! Project Kids (ハロー!プロジェクト・キッズ) in 2002 and graduated on March 3rd, 2015 after a last concert with the other members of Berryz Kobo.
Shimizu Saki debuted after Hello! Pro Kids in 2004 in a group called Berryz Kobo (Berryz工房) and became the leader of the unit. During her time in Hello! Project, she was also the leader of Hello! Station Dance Club (ハロ!ステ ダンス部) and member of some many units. The first one was Japanese pop group ZYX (ジックス). Second unit was High-King which was a Japanese idol group and the third one was BeriKyuu (ベリキュー) featuring °C-ute. The fourth unit was Cat's♥Eye 7 (キャッツ♥アイセブン) a group created to sing a theme song of the stage play Cat's♥Eye 7, and the last one was Green Fields.
Her only photobook was published in January 2011.
Shimizu Saki is known as Captain or Saki-chan. She was born on November 22nd, 1991 in Kanagawa prefecture, Japan.
2004-present are the years active and her member colours during the time are yellow (2005-2006 / 2009-2015) or purple (2007-2008).
Q/A
Favourite Brand / Designer : Mary Quant
Favourite English Word : Want!
Favourite Colour : Yellow
Favourite Animal : Dog
Favourite Flower : Cherry Blossom