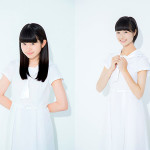 Harada Suzuka and Noroto Yumeka joined the idol group Idol Renaissance on June 11th.
The group has eight members now.
This announcement was made during a group's concert on June 11th. The new members was introduced to the fans.
For those who stiil don't know, one of the members, Hashimoto Kana, left the the group in September 2015.
Harada Suzuka (原田珠々華) was born on June 24, 2002.
Nomoto Yumeka (野本ゆめか) was born on October 28, 2002.
Furthermore, Idol Renaissance recently released its first album Our Songs in last April.
The idol group will release its 6th single entitles Kimi no Shiranai Monogatari (君の知らない物語), under T-Palette Records, on July 26. The new members will make their first appearance on a group's disc.
The group will be present at Tokyo Idol Festival 2016 in August.