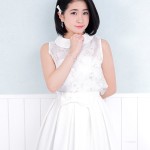 Hasegawa Reika announced her graduation from Sunmyu.
She will leave the idol group on December 27 after a last live performance at Akiba Cultures Theater in Tokyo.
Hasegawa Reika told that she wanted to realize her dream and become an actress.
She explained on the unit's blog that she was thinking about her future since she turned 20 years old in March. She dreams of pursuing her career as an actress for a long time.
Hasegawa Reika is an original member of Sunmyu. She debuted with the idol group at the end of 2012.
She made this announcement on October 27 on the show Tatakae! Sunmyu (闘え!さんみゅ~) broadcast on Nico Nico.
We wish her all the best in her future endeavours.