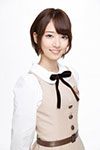 Hashimoto Nanami (Nogizaka46) will make an appearance in the drama 24 Hour Actress -Matsu Onna- (24時間女優 -待つ女-).
Hashimoto Nanami will be starring in the episode 7 which will be airing on January 24 on Hikari TV (ひかりTV).
It is directed by Kayasuga Tsubasa who worked on the TV commercial for the PS Vita and on PV for L'Arc-en-Ciel and Nogizaka46.
Actresses such as Kaho, Haru, Kitano Kii, Aizawa Rina, Nasuna, Arimura Kasumi, and Hashimoto Ai are playing in the other episodes of the series.
The drama 24 Hour Actress (24時間女優) is broadcast on Hikari TV (ひかりTV). It consists of 8-minute short stories filmed in 24 hours.