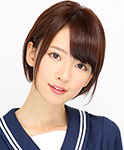 Hashimoto Nanami (Nogizaka46) will make regular appearances in the TV show ZIP!.
Hashimoto Nanami will co-host a segment titled Senryū Joshi (川柳女子) with other performers. It will be aired on Monday, Wednesday, and Friday morning at 6:20.
ZIP! is a morning news program broadcast on Nippon Television.
Hashimoto Nanami is also playing in the drama Bad Boys J featuring Itano Tomomi (AKB48) and 4 other members of Nogizaka46.