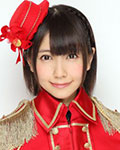 Hata Sawako announced her graduation from SKE48. She will leave the group in late March.
As Nakaya Sayaka who will graduate from AKB48, she took this decision because she wants to become a seiyuu (voice actress). She will enter in a voice acting school in April. She played the role of Kanzaki Suzuko in the anime series AKB0048.
Hata Sawako joined SKE48 in December 2010 as a 3rd generation member. She is currently part of Team KII. She is also a member of No Name.