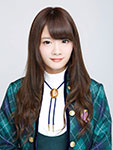 Hatanaka Seira announced her graduation from Nogizaka46.
Hatanaka Seira is going to pursue her activities with the idol group until a last handshake event scheduled on April 4.
She explained that, as she is 19 years old now, she wanted to become an adult and to be more independant.
Hatanaka Seira joined Nogizaka46 as a 1st generation member 3 years and a half ago. She was previously part of Chimo.
Furthermore, Nogizaka46's 1st album Toumei na Iro (透明な色) is on sale since January 7.
The 3rd Birthday Live of the idol group will be held on February 22 at Seibu Dome, Saitama.