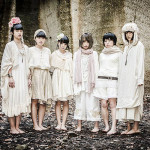 Hauptharmonie will release simultaneously the mini-albums bleich and Abenddaemmerrung on May 3rd.
The theme of bleich is "purity", whereas the concept of Abenddaemmerrung is "chaos".
The trailers of both mini-albums have been unveiled.
Hauptharmonie's producer O-Ant wrote the lyrics of all songs. He collaborated with several composers such as monochromemo, nienu, Funny Community, Tomoya Yamagata (I Hate Mondays), Kumarobo, Shiromizu Yu (Kagero), Yuuichirou Akaba, Sato Masafumi (Unchain) to make the music.
Furthermore, Hauptharmonie will hold a concert on July 22nd at Liquidroom in Tokyo. The 2nd anniversary of the idol group will be celebrated during this live.
Tracklist
bleich

yearning
Anne Hathaway's Morning
Nikolaus Knopp Platz (ニコラウス・クノップ・プラッツ) (erneutes)
Calmmaze (erneutes)
Soprano Overdrive (ソプラノ・オーバードライブ) (instrumental bonus track)
Abenddaemmerrung

Kidnapper Blues~人攫いの憂鬱~
Fujou (不浄)
Caterwaul (erneutes)
Bow (ボウ) (erneutes)
Soprano Overdrive (ソプラノ・オーバードライブ) (vocal only bonus track)