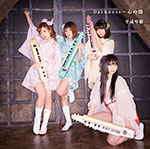 Heisei Kotohime (平成琴姫) will release their new single Darkness ~ Kokoro no Yami (Darkness~心の闇) on April 8.
This is the 2nd single from Heisei Kotohime (平成琴姫).
6 versions are available. The track listing is different for each one of them.
The regular edition includes 2 songs and their instrumental versions.
The limited edition comes with a DVD featuring the music videos and bonus footage.
There is also a solo version for each member of Heisei Kotohime : Kato Yui, Satsuki Miyu, Momoya Mami, Sakuraba Ruka.
The "Lonely End" edition includes a different coupling track.
In addition, Heisei Kotohime will hold live performances and participate in several events in Tokyo until late April.
Tracklist
Regular

CD

Darkness ~ Kokoro no Yami (Darkness~心の闇)
Fairy Tale (フェアリーティル)
Darkness ~ Kokoro no Yami (Darkness~心の闇) (Off Vocal)
Fairy Tale (フェアリーティル) (Off Vocal)
Limited

CD

Darkness ~ Kokoro no Yami (Darkness~心の闇)
Fairy Tale (フェアリーティル)

DVD

Darkness ~ Kokoro no Yami (Darkness~心の闇) (PV)
Fairy Tale (フェアリーティル) (PV)
Bonus Footage (特典映像あり)
Lonely End

CD

Lonely End ~ Hakanai Yume (Lonely End~儚い夢 )
Darkness ~ Kokoro no Yami (Darkness~心の闇)
Lonely End ~ Hakanai Yume (Lonely End~儚い夢 ) (Off Vocal)
Darkness ~ Kokoro no Yami (Darkness~心の闇) (Off Vocal)
Kato Yui / Satsuki Miyu / Momoya Mami / Sakuraba Ruka

CD

Darkness ~ Kokoro no Yami (Darkness~心の闇)
Fairy Tale (フェアリーティル)