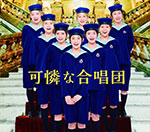 Hello Pro Kenshuusei's new single Karen na Gasshoudan (可憐な合唱団) was released on August 27.
The CD includes songs performed in a theatrical play by Hello! Pro Kenshuusei at Ikebukuro Theater Green Box in Box Theater, Tokyo, from March 14 to 23, 2014.
The 8 members of Hello! Project trainees who participated in these songs and in this stage play are Tanabe Nanami, Hamaura Ayano, Yamagishi Riko, Kaga Kaede, Murota Mizuki, Sasaki Rikako, Yamaki Risa and Oura Hirona.
Tracklist
Karen na Gasshoudan (可憐な合唱団)
Annie Laurie (アニーローリー)
Kikyuu ni Notte Doko Made mo (気球にのってどこまでも)