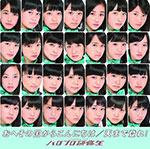 Hello Pro Kenshuusei's new single Oheso no Kuni Kara Konnichiwa / Ten Made Nobore! (おへその国からこんにちは) will be released on February 26.
This is the 1st DVD single from Hello Pro Kenshuusei. Only one edition is available. It is produced by Tsunku♂.
Hello Pro Kenshuusei was formerly known as Hello Pro Egg. The idol unit consists of Hello! Project trainees. 28 members performed on this single.
Ten Made Nobore! (天まで登れ!) is a cover of Juice=Juice's song.
Tracklist
Oheso no Kuni Kara Konnichiwa (おへその国からこんにちは) (Music Video)
Ten Made Nobore! (天まで登れ!) (Music Video)
Oheso no Kuni Kara Konnichiwa (おへその国からこんにちは) (Dance Shot Ver.)
Ten Made Nobore! (天まで登れ!) (Dance Shot Ver.)
Oheso no Kuni Kara Konnichiwa (おへその国からこんにちは) (Karaoke Ver.)
Ten Made Nobore! (天まで登れ!) (Karaoke Ver.)